Flyers are a fanstatic way of getting your business or service promoted in and around Worcestershire. Our flyers are produced on the most advanced Heidelberg presses and are printed in full colour onto quality gloss or matt paper. 
We use a combination of digital and litho methods to allow us to give you the best price we can. As a general rule of thumb, print runs up to 250 are printed digitally while runs above 250 will generally be printed lithographically.
Below is a small selection of the range of flyers that we print and is a guide to our prices. There are too many variants of paper weights, and sizes to list so please fill in our quote request form for your bespoke quote. We will endeavour to reply to your quote within 2 hours.

Prices below are based on 135gsm gloss or 150gsm silk coated paper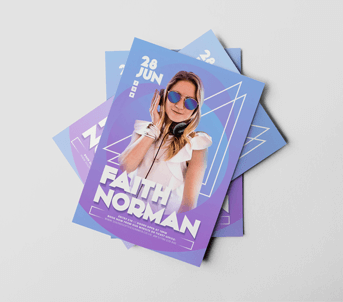 A6 = 105 x 148mm
A4 = 210 x 297mm
A5 = 148 x 210mm
DL = 99 x 210mm
| Quantity | Single Sided | Double Sided |
| --- | --- | --- |
| 500 | £36 | £36 |
| 1000 | £39 | £39 |
| 2500 | £49 | £49 |
| 5000 | £85 | £85 |
| 10000 | £95 | £95 |
| Quantity | Single Sided | Double Sided |
| --- | --- | --- |
| 500 | £45 | £45 |
| 1000 | £49 | £49 |
| 2500 | £69 | £69 |
| 5000 | £90 | £90 |
| 10000 | £110 | £110 |
| Quantity | Single Sided | Double Sided |
| --- | --- | --- |
| 500 | £45 | £49 |
| 1000 | £55 | £60 |
| 2500 | £70 | £70 |
| 5000 | £85 | £85 |
| 10000 | £135 | £135 |
| Quantity | Single Sided | Double Sided |
| --- | --- | --- |
| 500 | £70 | £85 |
| 1000 | £90 | £95 |
| 2500 | £135 | £135 |
| 5000 | £160 | £160 |
| 10000 | £235 | £245 |